[:de]In der letzten Periode haben wir viel darüber diskutiert, wie wir mit dem Assault – Red Horizon 41 Projekt fortfahren. Wir haben die geplante Kickstarter-Kampagne abgesagt!
Nun haben wir uns entschlossen, einen Verlag zu finden, der in der Lage ist, unser Spielsystem herzustellen. Dies liegt vor allem an unserem Wunsch, an der Entwicklung unseres Systems zu arbeiten. Das ist unsere Leidenschaft. Wir wollen kein vollwertiger Verlag mit all den verschiedenen Aufgaben wie Herstellung, Gewinn- und Verlustverantwortung usw. werden.
Also bleibt dran für Updates. Wir arbeiten am Fortschritt. Diese Woche habe ich den aktuellen Prototypen des Spiels zum Testen an einen bekannten Verleger geschickt. Nun brauchen wir etwas Glück, um dieses Spiel Wirklichkeit werden zu lassen.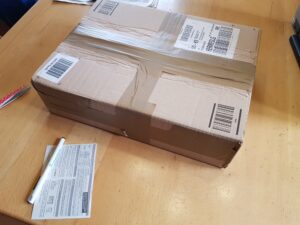 [:en]The last period, we discussed a lot about how to proceed with the Assault – Red Horizon 41 project. We cancelled the actual planned Kickstarter campaign!
Now, we decided to try to find a publisher which is capable and willing to manufacture our game system. This is mostly because of the idea to stay close to further development of our system. This is our passion. Not to be a full scale publisher with all of the different tasks as manufacturing, profit and loss responsibility etc.
So stay tuned for updates. We are working on progress. This week I have sent the actual prototype of the game to a well known publisher for testing. Now, we need some little luck to get this game reality.